Miami FC & Play for Change's 'Kick It Miami' Soccer/Mentoring Program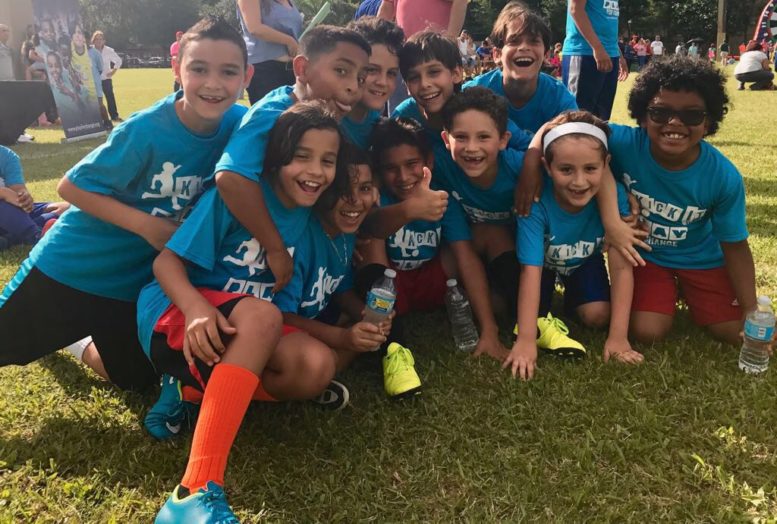 Play for Change (PFC) hosted kids and stars at the Wilde Community Centre in the City of Hialeah for the official launch of 'Kick It' the exciting soccer and education program.
Kick It Miami was launched to mark the brand new weekly soccer sessions for children with a day of celebration and fun. Activities included an inflatable soccer game, a freestyle demonstration with street soccer star Jason Jayzinho Quezada, and a training drill with J10 Futball Academy and Miami FC Players.
Miami FC Head Coach, Alessandro Nesta, was thrilled to be playing alongside the children and was there to help the kids celebrate and develop new skills.
Kick It, like all the PFC programs, has been designed to provide children with unique sport experiences whilst teaching life skills and building capacity in the community.
Not only is Miami FC and their President, Riccardo Silva, supporting Kick It, but Italian soccer legend and PFC Ambassador Alessandro Nesta will be providing a separate element of the program by training members of the community to coach soccer, helping to build capacity with local people for a sustainable infrastructure.
Carlos Hernandez, City of Hialeah's Mayor, said: "We are honored to host Play for Change and it's first ever Kick It program. Kick It Miami is a fantastic example of how the community can work together to provide unforgettable experiences for children."
Andrea Radrizzani, Founder of Play for Change, said "It is fantastic to see Play for Change begin its Kick It signature program for children. We see sport as a very good way to engage children so they can learn the life skills they need for a bright future. We hope this program in stills new and valuable opportunities for the long term." Miguel Herrera, parent of one of the registered children, said "We are all grateful to the Foundation for this beautiful work they do. Congratulations to the entire group of the Foundation and Miami FC and many successes."
Monica Tazioli, parent of participating young female, said, "Thank you Play for Change, Miami FC and J10 for your great work and dedication to the children of our community and for teaching them the culture of Soccer, and thank you for helping us to keep our children in a healthy and familiar environment."
SOURCE